I have been using WordPress for the past 10 years. Usually I will be writing small posts and so it was easy for me to post something in WordPress. But recently I have started to write some long essays and so I feel hard to edit in the WordPress. Even though WordPress editor is good and I have tried dozens of plugins for WYSIWYG. There was slight delay in loading the editor and it was not the fastest. I wanted to use some offline editor software or some applications which loads fast and easy to organize thousands of words. After a little search I started using Evernote. But there were lot of limitations in Evernote and so I have shifted to Google Docs which is % free unlike Evernote which is a freemium software.
Google Docs had some issues especially while cop paste content. The alignment of the text in WordPress was not the same as in Google Docs so it became a double time work to edit in google docs and to format in WordPress editor.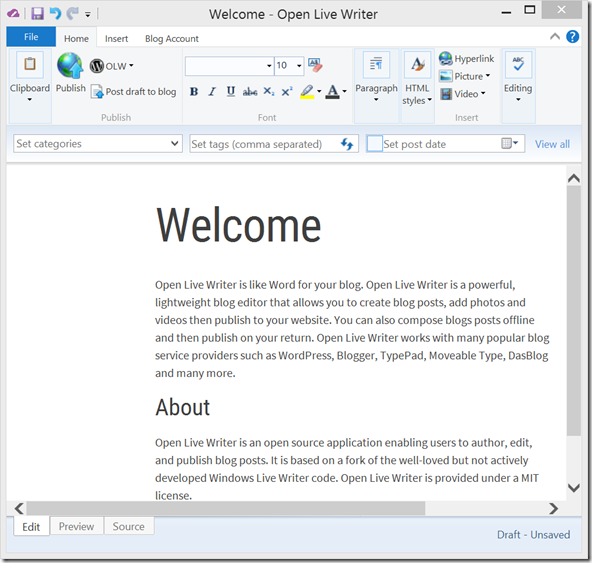 Finally I have found Windows Live Editor. But the problem with windows live editor is no recent updates for the application. There was no support for it. I can't find a solution for windows 10. So I have shifted to Open Live Editor.
Pros:
Easy Editing.
No Need To Save while typing. Text will be saved Automatically.
Need not have to save backup text separately.
WYSWYG
Supports Theme of our Blog so that you can get a preview of how it would look in our website.
Can Attach Picture, Video
Hyperlink supports to link our other posts
Can set Categories, Add Tags, Change Post Dates
Checks Spelling
Supports Multi Platform like WordPress.com, WordPress, Blogger, Typepad etc.
Supports Multi blog/ Website
Can Publish from the editor.
And beyond everything it is Free Free Free!!!
Cons:
Currently It supports only recent posts and not all the posts that we have posted in our Website/Blog. It would be nice If we can also edit old posts.
Does not counts number of words
By the way I'm Posting this using Open Live Editor